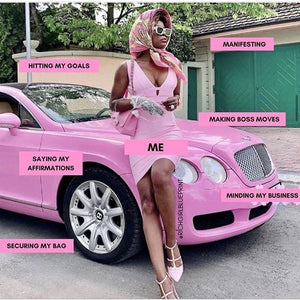 Life Update Part 2
In part 1 I told y'all that I quit my job to focus on my new entrepreneurial life. Well a lot has happened since then and honestly I haven't given an update because life just keeps unfolding for me. With COVID recking havoc on the world and me trying to develop my e-commerce store, I just haven't had inspiration to talk about my life. 


However, tomorrow is my birthday and I've been doing some self-reflection. I've been wanting to get back to my blog and connecting with my beloved readers. 
 
Here are some commonly asked questions and my response. 
What I do all day ?
I wanted to share with you all that I have taken a very sweet and loving 'job' as a care taker to my sweet little nephews. Twin boys that were unexpectedly born prematurely. 1 of them needing more care than the other. As 'the nanny' in my older sister's household, I am mostly holding and caring for the twins. When I'm not doing that I'm on my laptop trying to figure out how to write a caption for my Instagram post. lol.
Next steps for Kendall Cosmetics?
 Aside from my part time job I am also distracted by the fact that KENDALL COSMETICS will soon be no more for me. For trademark reasons, I am planning to officially DROP my name and relaunch with a new name more fitting to my brand objective. 
2021 Plans ?
Although it is bitter sweet, I am excited for a change in my brand. I'm ready to shake up my site, products and Instagram page. This year I am also introducing eyeshadow palettes and hopefully amazing brushes as well. 


Stay locked in with this Blog so I know you want to read more about my personal story.
xoxo Kendall
---